FAQ's.
Please note our FAQ's are updated every time a new question is asked.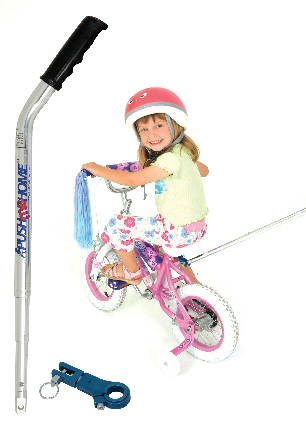 Q Will the handle fit all Bikes?
A It is suitable for the following size seat posts, 22.2mm, 25.4mm and 27.4mm.
Q Will the Push me Home fit onto a tricycle?
A No, but we do make one for tricycles please see our products link.
Q Can I use the Push me Home once the training wheels come off?
A You can but will find yourself running along behind, it is primarily designed for use with training wheels for assistance, building confidence and safety.
Q How long is the handle?
A The extended handle measures around 90cm. When retracted it measures around 50cm which will fit into a back pack or picnic bag.
Q Is the handle suitable for Tall people?
A Tall or short it doesn't matter as the unique universal joint type clamp means the handle positions to suit any persons height.
Q Is the handle strong?
A It has been rigorously safety tested to 150Kg see our safety compliance page.
Q Is the Push me Home delivered to Other countries than USA, UK and AUSTRALIA?
A Yes it is, But payments are only processed in Uk, Us or Aus Dollars.
Q Will the handle stay in upright position?
A No, the push handle was specially design to safe your back by allowing the handle to move to most confertable position while pushing on uneven terrain. It has special bold on clamp which allows handle to be click in and out of the clamp with no effect on movement of the bike. Its simply must for anyone with any back problem. It also promotes childrens freedom of learning new skills without effecting their confidance. Its so easy to put on when kids get tired, crossing busy road or just simply use when safety of your child cant be compromise. By allowing our handle to move we also created less chance for our handle to break by forcing the handle to different direction of the bike as we heard the stay up handle does .